Timur Nasirov
Founder and CEO
Timur is a driven entrepreneur from Tashkent, Uzbekistan, who founded a bar while pursuing his master's in engineering at Tashkent University of Information Technology. He has since become a leading wine importer in Uzbekistan, and his portfolio of hospitality, food, and beverage companies continues to expand. Timur has successfully introduced international brands such as Red Bull, Baron Rothschild, Planeta, and Paulaner to the Uzbek market. His passion for business and desire for global expansion led him to pursue an MBA at Haas UC Berkeley. Timur also serves as a member of the advisory board for the Uzbekistan Venture Capital Association, supporting the growth of the liberal economy and talent development in Uzbekistan. Timur enjoys playing tennis, boxing, and martial arts in his free time. He resides in San Diego, California, with his wife and three children.
Askar Nasirov
Director Maro Wines
Askar joined Gourmet Concept as the head of Maro Wines in 2020, bringing with him years of experience in distribution. Born and raised in Tashkent, Askar received his Bachelor of Business Administration from the University of Westminster. For five years, he served as the head of distribution at Tar Pharm Allians, a pharmaceutical company, where he played a pivotal role in the company's success. Later, Askar became a key contributor to M Brand in the Macro supermarket chain. During the pandemic, Askar achieved a remarkable feat by being the only citizen of Uzbekistan to swim from Europe to Asia on the annual Intercontinental swim across the Bosphorus. His determination and dedication to success in all aspects of his life have been instrumental in his professional career, making him a valuable asset to any organization he is a part of.
Ulugbek Saipov
Director San Vito Drinks
Ulugbek Saipov is a highly experienced Director at San Vito Drinks, with over 20 years of experience in the Hospitality, Printing, and FnB industries. In 2005, he co-founded Horeca Promo Management alongside Timur Nasirov. Born and raised in Tashkent, Ulugbek graduated from the Plekhanov Academy of Economics with a bachelor's degree in Business Administration. His commitment to developing the highest standards of values in his company is a testament to his status as a true Uzbek intellectual. Ulugbek enjoys indulging in his passion for German beer and French wine in his free time. His extensive knowledge and expertise in the industry make him a valuable asset to any company looking to succeed in the FnB industry.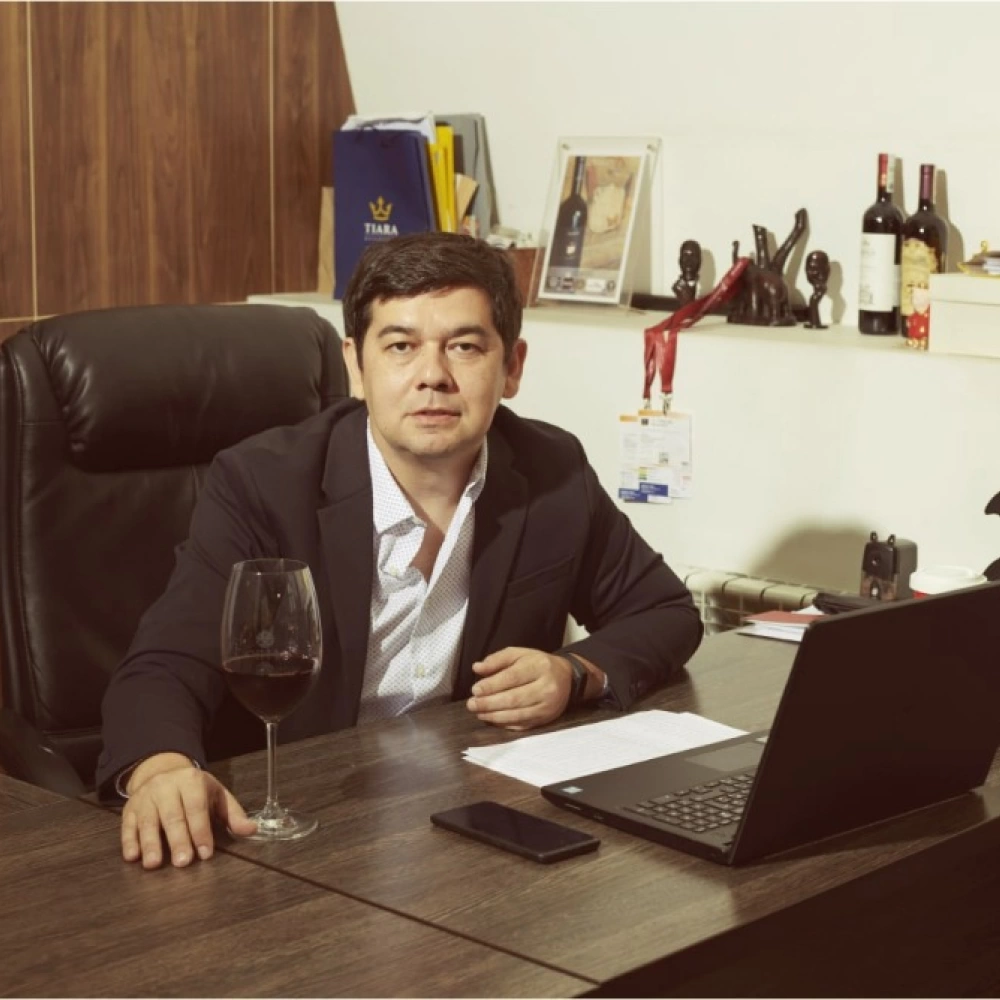 Maria Pozilova
Accounting Director
Maria is an accomplished Chief Accountant with over 20 years of experience working in large companies, trade, and manufacturing enterprises. Since 2020, she has been heading the company's accounting department, ensuring the accurate and timely recording of all financial transactions. A true professional, Maria has successfully developed and implemented various financial strategies that have improved the company's bottom line. In addition, her expertise in financial analysis and forecasting has helped the company identify potential risks and opportunities, allowing it to make informed business decisions.
With an in-depth understanding of accounting principles, Maria is passionate about staying up-to-date with industry trends and regulations. In addition, her excellent communication skills and ability to work collaboratively with other departments have made her a valuable asset to the company. Maria is an essential member of the company's executive team. She is dedicated to her work, committed to delivering results, and continually seeks to improve her skills and knowledge.
Anastasia Bondar
Marketing Director
Anastasia is a seasoned professional in the wine industry with over ten years of experience. Born in Kyiv, Ukraine, she began her career at Dolmart Ukraine LTD, where she honed her skills in wine sales and marketing in an emerging market. Over the next five years, Anastasia expanded her expertise as a regional export manager and Baron Philippe de Rothschild S.A. brand ambassador. She gained a deep understanding of the complex demands of the CIS and Eastern Europe markets. While pursuing her bachelor's degree and receiving a master's degree in international economics at the Kyiv National Economic University, Anastasia fell in love with New Zealand's wine culture. Her passion for wine and her expertise in the industry makes her a valuable asset to our company.
Valiev Nodir
Director of Operations HORECA Promo Management
Nodir is a highly experienced logistics and supply chain professional with the company since 2008. Over the years, he has successfully developed logistics and supply chain systems across multiple company divisions, including San Vito Drinks.
Originally from Tashkent, Nodir graduated from two prestigious universities - the State Institute of Physical Culture and the National University of Mirzo Ulugbek - providing him with broad skills and knowledge. Outside work, Nodir is a devoted family man and a proud father of four. He is known for his excellent parenting and commitment to his family's well-being. In addition, Nodir enjoys spending time with his loved ones and participating in physical activities such as soccer and hiking. Nodir's extensive experience, education, and dedication to his family make him an exemplary community member.
Angela Sokolova
Managing Partner Horeca Promo Management
Angela is a highly skilled hospitality professional with over 15 years of experience in the industry. Born and raised in Tashkent, she has dedicated her career to promoting female leadership in hospitality.
Angela has demonstrated exceptional leadership skills throughout her career, consistently setting an example for her team through her commitment to excellence. In addition, her reliability and dedication to her work have earned her the respect of her colleagues and clients. Angela is passionate about empowering women in the hospitality industry and has actively worked towards creating opportunities for women to advance their careers. Her efforts have led to significant changes in the industry, and many women have benefited from her mentorship and guidance. In her spare time, Angela enjoys traveling, exploring new cultures, and trying new foods. She is also an avid reader and enjoys keeping up with the latest industry trends and news. Angela's expertise, leadership skills, and dedication to promoting female leadership in hospitality make her a highly respected and valuable member of the industry.
Anastasia Kudasheva
Brand Manager San Vito Drinks
Anastasia is a highly accomplished hospitality professional with a solid educational background. Born and raised in Tashkent, she graduated from the prestigious Moscow Financial and Industrial University. Anastasia began her career in hospitality as a manager of the Tashkent country club "Three Palms beach club" and the coffee chain "Bruno coffee." Her passion for the industry led her to join the company in 2017 as the manager of the restaurant "Maro Wine Republic." In 2020, Anastasia took on a new challenge and became the manager of corporate clients for San Vito Drinks. Leveraging her extensive experience gained in hospitality, Anastasia has successfully developed and managed relationships with corporate clients, ensuring their satisfaction and continued business. Anastasia is known for her exceptional leadership skills, attention to detail, and commitment to excellence. Her dedication to providing excellent service and creating memorable client experiences has earned her a reputation as a top-performing hospitality professional. Outside work, Anastasia enjoys traveling, trying new foods, and spending time with her loved ones. She is also an active local community member, volunteering her time and resources to charitable causes. Anastasia's extensive experience, educational background, and commitment to excellence make her a valuable asset to the company and a highly respected member of the hospitality industry.
Timur Turaev
Administrator Horeca Promo Management

Timur is a multi-talented musician, restaurant manager, and leader with over 13 years of experience in the industry. He discovered his passion for music at a young age and recorded his first song at 15. Inspired by Gordon Ramsay's show "Hell's Kitchen," Timur also decided to pursue a career in the culinary arts. After graduating from the College of Restaurant Business and Tourism in Tashkent, Timur began his career in the famous Caravan Group chain. Over the years, he gained valuable experience working at the Ichankala premium hotel and heading large restaurant projects in Tashkent. Since 2019, Timur has been part of the senior management team at Horeca Promo Management, where he has been instrumental in developing the company's strategies and initiatives. As a leader, Timur is known for his creative thinking, attention to detail, and commitment to excellence. In addition to his professional accomplishments, Timur is an accomplished musician who enjoys playing and recording music in his spare time. He is also an avid traveler and enjoys exploring new cultures and cuisines. Timur's extensive experience, creative talents, and dedication to excellence make him a highly respected industry member.